Utiliser du "code html" - how to use "html code"
Ce petit tuto rapide pour savoir où utiliser du code html sur votre blog...bien sur je prends l'exemple d'overblog mais je pense que les autres doivent avoir un environnement qui ressemble...
This little tut just to know how to use "html code" in you blog writer edition. I use overblog but the others seems to be the same ways...
1) Faire comme d'habitude pour écrire un article- Do as usual to write an article :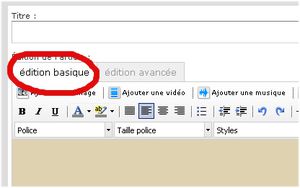 2) Ensuite il faut trouver le mode dit "avancé" sur lequel il existe une icone (ou bouton) HTML - Now you have to find the "advanced edition" or something like that ...it look the same but there is a little botton HTML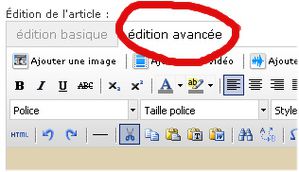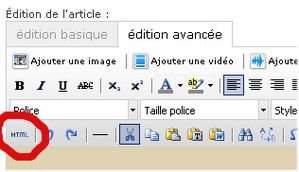 3)Ceci ouvre une fenêtre spéciale...qui ne ressemble à rien...du style - It opens a window without anything on it....like this

4 ) copier-coller dans cette fenêtre - copy and paste on this area:

5 ) Ne pas oublier de "valider" ou "mettre à voir" et ps seulement fermer...pour moi il aut que je descende un peu pour voir ce bouton - Don't miss to "valid" or "update"...on mine I have to scroll down to see it be carreful however it does change anything: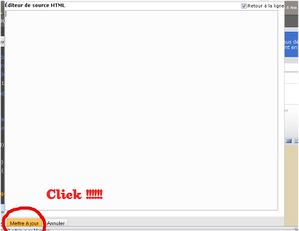 et hop c'est fini!! - That's it!!!

Bon scrap à tous et n'oubliez pas le petit commentaire qui fait toujours plaisir ou encore mieux ...un petit clic sur la pub ...j'y gagne des sous vraiment et cela ne vous coute rien!!!
Great scrapping and do not forget to leave comment which always pleases or even better a small click on the advertising I really win some fees and it cost anything!!!