Tous à vos badges - get your flair - Freebie - PU
une petite envie d'agrémenter ma signature dans les forum....voici ce que cela donne:
I just want to make my signature a little bit funny...

Si vous en faisiez de même?? What don't you do this???
Je vous ai préparé le peti freebie qui va bien....I made the great freebie for that...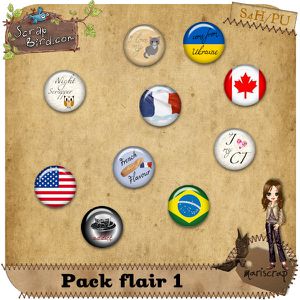 si vous voulez que je vous en fasse des spéciaux...n'hésiter pas à poster un commentaire à cet effet..
If you want me to do some special one...don't hesitate and post a comment for.

Bon scrap à tous et n'oubliez pas le petit commentaire qui fait toujours plaisir ou encore mieux ...un petit clic sur la pub ...j'y gagne des sous vraiment et cela ne vous coute rien!!!
Great scrapping and do not forget to leave comment which always pleases or even better a small click on the advertising I really win some fees and it cost anything!!!