Suite au départ de certaines designeuses de ma CT pour des obligations personnelles, je suis à la recherche de nouvelles recrues.
Les débutantes sont les bienvenues et je vous accompagnerai pour la création de vos galeries et inscriptions aux forums...alors n'hésiter pas à rejoindre une team très sympas.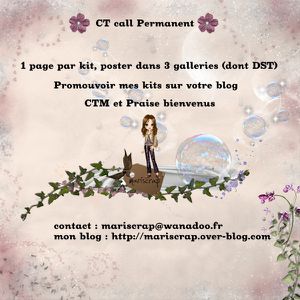 Somes of my CT Ladies have to leave for private obligations, that's why I'm looking for some news friends!!! Beginners welcome....I will explain you a lot of thing if you don't know them : how to create your galleries, subscribe to new forums and everything...so apply to join a very friendly team!!