Aujourd'hui pour toutes ceux et celles qui serait intéressés voici un appel aux designers dans la boutique où je suis....
c'est très simple...vous remplissez le formulaire et Dona vous répondra très très vite...elle est super.
Cliquez sur le blinkie et vous y etes: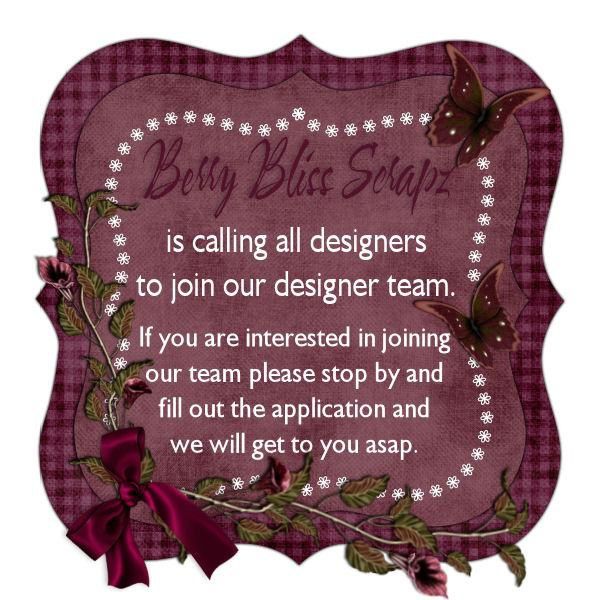 Bien sur c'est un shop anglo ..mais ils sont tous super cools...on vous attend nombreux!!
Tout est super bien expliqué pour débuter et l'acceuil et super...Alors n'hésitez pas "Apply" comme ils disent!
HI EVERYONE,I HAVE SOME GREAT NEWS!!!MY GOOD FRIEND DANA HAS OPENED HER OWN SCRAPKIT STORE IN THIS STORE YOU CAN SALE FULL SIZE SCRAP KITS AS WELL AS TAGGER SIZE.
SO IF YOU ARE INTERESTED IN JOINING OUR DESIGN TEAM GO TO
www.berryblissscrapz.com
AND FILL OUT THE DESIGNER APPLICATION.WE LOOK FOWARD HEARING FROM YOU.WE ARE PLANNING ON HAVING THE GRAND OPENING AUG.15TH IF ALL GOES WELL!!!!!